Paver Staining

I started staining pavers when I was 14. It took me years to master the art of how to stain pavers. Relax, and let our experience be your benefit

Most people prefer when you stain the pavers, that they all have the same hue, but the blemishes, characteristics, and natural colors come through. What happens a lot is that people have a tendency to put the stain on more like a paint and covers the whole paver.
What results is the paver are all one solid color instead of having variation. Making them one solid color also brings up the challenge of getting them sealed correctly. By this I mean, the solid color is so thick that the sealer bonds to the thick stain, not the paver underneath. Over time this will not hold up well. It will scratch easy, and began to turn white and cloudy, possibly peeling and blistering may occur.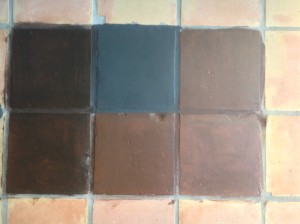 We can custom match any color.
We can pre-stain them right out of the box.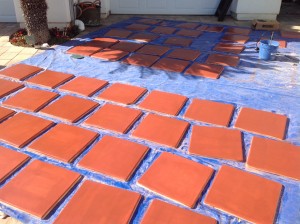 Call now or E-mail to get your Paver Tile Floor Custom Stained Today!
(707) 384-1172
Fritz_wittmann@yahoo.com
Fritz Wittmann
California Tile Restoration
We also do pre stained hexagon tiles, saltillo pavers, super saltillo pavers, tecate pavers, lincoln pavers, spanish pavers, terra cotta pavers, barcelona pavers, mesquite paver, mexican paver,  8 INCH MEXICAN SALTILLO PAVERS, italian paver, spanish cement tile paver, QUARRY TILE PAVER, FRENCH PAVER, TURKISH GOLD PAVERS, PAVER STAIR TREADS, MEXICAN TALAVERA, EUROPEAN TERRA COTTA TILE FLOORING, MOJON MEXICAN PAVERS, ANTIQUE FRENCH PAVERS, RUSTIC SPANISH PAVER, MISSION PAVERS, 8 x 8 round edge pavers, 12 x 12 traditional pavers, OCTAGONAL MEXICAN SALTILLO TILES